Painting the Spectrum 4 - Celebrating Love in all of its Diversity
June 2008 ,
Sidewalk Cafe,
Middle Street, Georgetown Guyana
Programme starts at 7pm each night
Admission is FREE. All films are intended for mature audiences.
Special Events :
Tuesday 24 June, 2008
5pm at Red House, High Street, Georgetown
Public Lecture : MSM, HIV and Human Rights
by Milton Castlelen , Coordinator of the NAPS, Suriname
5 July : Kaleidoscope Party
Monday June 2
A Jihad for Love ( 12 countries ) DocumentaryA Film by Parvez Sharma, produced by Sandi Dubowski and Parvez Sharma
Filmed over 5 1/2 years, in 12 countries and 9 languages, "A Jihad for Love" comes from the heart of Islam. Looking beyond a hostile and war-torn present, this film seeks to reclaim the Islamic concept of a greater Jihad, which can mean 'an inner struggle' or 'to strive in the path of God'. In doing so the film and its remarkable subjects move beyond the narrow concept of 'Jihad' as holy war. (81 mins)
Read more..
Tuesday June 3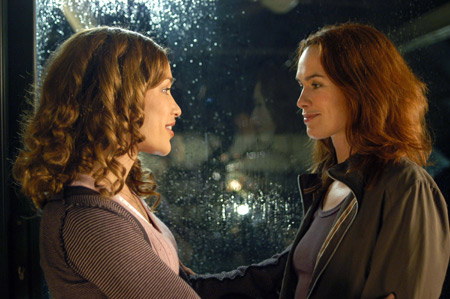 Imagine me & you (2005) Comedy/Drama
Rachel and Heck, long time friends and lovers, finally tie the knot, and during the celebration, Rachel starts a friendship with their florist, Luce. And while Rachel originally intended to match her new friend, Luce, up with her husband's friend, Cooper, she soon finds out that Luce is a lesbian. During the course of their friendship, Rachel starts to question her own sexuality. And though she comes to realize she may have feelings for her new friend, Rachel must decide who she will ultimately find the most happiness with: Heck, her new husband who is also adored by her family, or Luce, who has turned her life and everything she thought she new about love upside down. (94 mins)
Wednesday June 4
It's Still Elementary (USA) Documentary
In 1996, It's Elementary, a documentary about secondary schools combating stereotypes of gays and lesbians in their classrooms, screened on the festival circuit and on PBS to great acclaim - and great controversy. This follow-up shows how the original film, which let the children do most of the talking, has helped to spread gay-straight alliances and educational outreach programs across schools all over the world. (60 mins)
Film donated by
Groundspark
Monday June 9
Erik(A) (Austria) Documentary
Raised as a girl in a small town in the Austrian Alps and celebrated as the Women's Downhill Champion in Portillo, Chile in 1966, Erika Schinegger's career comes to an abrupt halt just before the Winter Olympics of 1967. The results of a newly instituted gender check cause an international sensation by pronouncing her a biological man. Disregarding the vehement disapproval of her family and the National Ski Federation, Erika elects to undergo gender completion surgery and assume what she feels to be her true identity. After the operation at 20 years of age, Erik begins learning to be a man. (86 mins)
Film donated by
Kurt Mayer Films
Tuesday June 10
Dos Patrias : Cuba y la noche (Cuba/Germany) Documentary
Framed by the beautiful poetry of the oppressed Cuban poet Reinaldo Arenas, this revealing documentary features memorable portraits of five gay men and one transsexual woman living in and around Havana. Their disparate stories and candid interviews dispel myths while demonstrating a range of experience, opinion and social status: A vibrant nineteen year old, Raudel attends illegal gay parties, since the government still cracks down on queer gatherings; Tomas is a former colleague of Arenas, still deeply in touch with the revolutionary spirit; A courageous and talented photographer, Eduardo explores the mythology of Cuban machismo through his work; Imperio is an HIV-positive drag artist performing in the illegal cabarets; Alexy is the son of a Communist official living under the radar on the Malecon; and Isabel is a transsexual woman whose triumphant spirit helps her survive in a hate-filled world.
It has been more than ten years since the success of films like
Strawberry and Chocolate
and
Gay Cuba
, so
Two Homelands
provides a fresh and important look at the present-day gay culture and community of an often misunderstood country that is still stuck in the past but also very dynamic and full of surprises. While exploring their contemporary struggle for sexual liberation, German director Christian Liffers offers intimate access to the private lives and the two homelands of these queer Cubans. Cuba is the country where they live, but the night is where they thrive. — COREY EUBANKS (84 mins)
Film donated by
Christian Liffers
Wednesday June 11
Float (Bahamas) Short drama
Jonny, white Bahamian artist who faces loosing his scholarship, chooses to escape for a weekend island trip where he meets a young man named Romeo. Together these two embark on a series of adventures that inspire Jonny to paint and force him to let his guard down and explore real intimacy without fear. (34 mins)
Donated by Director Kareem Mortimer
On the Downlow (USA) Documentary
Noted independent filmmaker Abigail Child returns to her documentary roots in this collective portrait of bisexual African-American men in Cleveland.With the subtle cinematography of Arthur Jafa (Daughters of the Dust, Crooklyn), Child rejects mainstream tendencies to cast the men as merely deceptive. The opening epigraph by Ralph Ellison - "I am invisible, simply because people refuse to see me" - connects the men's experiences of racism with their experiences of homophobia. (54 mins)
Film donated by
Thirdworld NewsReel
and Abigail Child
Saturday June 14th
Special event : The film maker workshop
Monday June 16 : The Short Delights
Director
Erica Eaton
will be in attendance
Fine and Dandy
A woman whose thoughts and actions are controlled by 1885 social etiquette is struggling to find happiness through self help books and videos. Through this she hopes to attract the attention of a potential female suitor.
Time will Tell
What do you talk about when you are not ready to say goodbye? Daylight savings always passes the time.
Omphalitis
'Omphalititis'; a fetish with the Belly Buttons or is it? We follow three people who all believe they have 'omphalititis' as they come out to their families and then to the world during the Berlin Pride Festival
These listed above were donated by
Fully Flared Films
The following shorts have been organised through Erica Eaton
Baptism by Marilyn Freeman
Nude Ascending Staircase by Bridget Irish
The artist is both filmmaker and model in this short performance-based parody piece featuring a nude woman climbing a flight of stairs while pushing a large wood dresser up before her.
"Not Quite?" by Liz Richards
This hand-processed film poetically explores the space between male and female, and the difference between sex and gender
UN/BECOMING BEAUTIFUL, 2006 by Teresa Brazen (Video, 6 minutes)
" "Who we are never changes. Who we think we are does."
Mary S. Almanac
"Un/Becoming Beautiful" explores self-image through the negative internal dialog that takes place about one's own appearance. In this performance-based video, I am looking directly into the camera as if it is a mirror, sans makeup, while reciting an anxious litany of "I am beautiful" or "I am not beautiful." The viewer goes on an emotional journey with me as I become critical of my looks, applying makeup to enhance my beauty, ultimately feeling even less attractive. By the end I have removed my makeup again and embrace the true beauty underneath. Most women dislike their natural state and feel that painting their faces with makeup makes them more beautiful.
I wanted to explore what the reverse would feel like; if I felt beautiful just as I am. My intent is to provoke the viewer to think about their own self-image amidst a society that tells us all we aren't beautiful enough. "
ONE TINY LITTLE SECRET, 2006 by Teresa Brazen (Video, 2 minutes 27 seconds)
This short video artwork explores three different relationships to secrets: hiding, destroying and revealing. Through images of hands interacting with a tiny envelope containing a secret, the video examines what we do with our secrets and what they do to us. Which has more power: the keeper of the secret or the secret itself? To reinforce this theme, the visual perspective vacillates between that of the "secret keeper" and the secret. In one moment the viewer watches hands cup around the envelope; in the next, those same hands seem to be enveloping the viewer, turning them into the secret.
Ultimately, who is hiding whom? Who is destroying whom? Who is revealing whom?
Jared Pappas-Kelley is a writer and artist working primarily with durational media. His work seeks out the challenge of unintentional audiences, often melding sculpture, performance, and media based elements into projects that are then inserted into everyday life. For the last several years he has published Toby Room magazine featuring interviews with contemporary video artists. His direction of the non profit, ArtRod, has led the organization to be recognized as a leader in public and new media work. Pappas-Kelley earned his BA from The Evergreen State College in Olympia, Washington and is completing his MFA in writing and theory at Goddard College in Vermont. His work is in the collection of Tacoma Art Museum and other private collections. He was a 2007 Fellow of the Atlantic Center for the Arts. www.pappas-kelley.com
Some Say She Lost Her Head (0:2:42) explores ideas of interior life in contrast with exterior experience and cultural isolation. It re-constructs 2.5 seconds of found film footage by L. Frank Baum (author of The Wonderful Wizard of Oz) from the early 1900s, which had been long discarded. Working like an archeologist without a Rosetta Stone, this film cobbles together a contained experimental universe based only on the information found in the original. The process was a meditation on unfolding one limited fragment into a lyrical exploration of identity and other.
Little Deaths (0:1:56) is a short genre play combining lesbian prison movies with the cliché of queer monsters. The plot is simple: a woman bakes a gun into a cake to smuggle to her girlfriend in jail. What happens next is anyone's guess. This short short is set to the rock stylings of seminal lesbionic band the Need.
The following films are by Erica Eaton :
I Live... is an experimental documentary that relates the High School experiences of 12 LGBT youth in the greater Rochester, NY area. This video was made in collaboration with the youth that appear in the piece, and others that appear in the credits.
Collected Meanderings: Chapters 1-3
Chapter 1: Network TV Made Me A Lesbian is a story about the being thrust into the world of media consumption. I grew up on PBS, but once I entered school I becam
e aware of network TV. I had grown accustomed to the "subversive" nature of public television. I thought that people all believed that boys and girls were equal, that all people were equal. I believed that I could travel all over the world and learn anything I wanted to. The switch to network TV meant I had to work harder to find the contraband. There were still subversive possibilities, but I had to figure out where to look and what to look for.
Chapter 2: Uncoordinated: Swimming Upstream is the tale of a young girl stuck in a small town trying to figure out how she can fully express herself.
But I want to play baseball... is the third chapter in a series of video essays. In this segment the teen years approach and expectations change.
Michael Lent is an interdisciplinary artist and curator. He works mainly with video, installation, and drawing but also encompasses photography, performance, and sound. His work deals with gender and feminist issues, gossip and fashion, corporeal politics and queer theory, art history, and contemporary culture. He is interested in reconciling digital technologies and color representation with traditional artmaking practices.
Lent earned his BFA from Tyler School of Art - Temple University in Philadelphia and is completing his MFA work at Goddard College in Plainfield, Vermont. He has shown extensively throughout the United States and Italy. He is the curator and creator of several interactive media projects including the Tollbooth Gallery, which has most recently been featured in Public Art Review and in the Contemporary Art Start (CAS) project of the Museum of Contemporary Art, Los Angeles. www.michaellent.net
October Fire was shot during the Southern California wildfires that burned for several weeks in October 2007. It begins as a letter of sorts from the artist to his partner describing the changes in landscape. It explores the reaction and behavioral changes of local residents to the environmental impact of the air and ocean.
Tuesday June 17
The Truth about Jane (Drama, 2000)
Jane, a high school teenager, tries to deal with the discovery that she is a lesbian after developing an intense friendship with another girl who makes her discover her true sexuality, which is only the start of Jane's troubles when Jane's unaccepting mother, Janice, struggles with his surprising revelation of brought forth by her only daughter. (87 mins)
Wednesday June 18
Bob and Jack's 52 year adventure (USA) Documentary
A half century ago an Army sergeant started going out with his commanding officer. Their romance grew and then grew too obvious. Rumors became anonymous tips to headquarters. They avoided court-martial by confronting the troops in their unit. The two men came out by confronting the troops in their unit. They've been together ever since...
Bob & Jack's 52-Year Adventure is the true self-told story about the kind of lifelong love we all hope for and the equal rights two men who are still in love will now need to survive. (41 mins)
Donated by Director
Stu Maddux
God only knows: Same Sex Marriage (Canada ) (Documentary)
The documentary God Only Knows: Same Sex Marriage consists of two very different men changing lives for a period of time in order to gain an understanding of each other. A deeply religious father and a homosexual minister decide to exchange lifestyles, with all of their activities captured by director Brent Kawchuck. (63 mins)
Film rights donated by
Joe Media TV
Monday June 23
The Gymnast (USA) Drama
The stunning Dreya Weber stars as a former top gymnast who discovers love and a new life path when she teams up with a dancer (played by former L.A. Lakers cheerleader Addie Yungmee) for an ambitious Las Vegas aerial act show. A visually compelling film that challenges notions of both ability and identity, THE GYMNAST is foremost a story about hope and taking the necessary risks to fully become yourself (96 mins)
Film donated by Lunar Fish Productions .
Read more...
Tuesday June 24
Dirty Laundry (2006) Comedy
After ten years, Sheldon returns from New York City to Paris, Georgia. His mother Evelyn, a laundress who is stubborn, ornery, opinionated, mean-spirited, insulting, and inflexible, has sent a ten-year-old boy who says he's Sheldon's son up to see Sheldon. Sheldon comes home to straighten things out. Old arguments flare up - between mother and son and between brothers. Sheldon wants no part of fatherhood or family. Then, someone else from New York shows up at Evelyn's door, bringing a new set of challenges. Will this family ever stop airing its dirty laundry? And what of Sheldon: where is his pride? Can he, in the words of James Baldwin, go where his blood beats and live the life he has? (100mins)
Wednesday June 25
Curiosity of Chance (USA) Comedy
An already 'out' and eccentric teenager recruits a bizarre circle of friends made up of two oddball outcasts, a straight jock he's crushing on and a drag queen, to help him bring down the homophobic bully threatening his would-be peaceful, high-school existence (98 mins)
Donated by
Bigfoot Entertainment
SASOD thanks :-
All of the Directors and producers who donated films
Erica Eaton
Richard Fung
Jason St Laurent, InsideOut Toronto Lesbian and Gay Film and Video Festival
Keimo Benjamin
Colin Robinson
Juan Pique
Jennifer Davis